"i want that! i want that! please mommy, can i have that kitty!" she begged. speaking of the FurReal Lulu My Cuddlin' Kitty.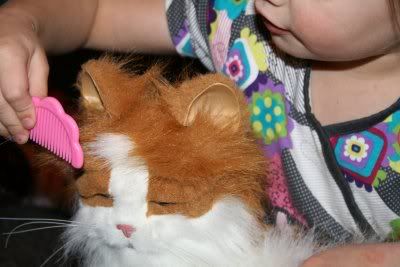 for weeks and weeks. she begged. i'd stop and peek each time as she excitedly pointed to the girl on tv tending to a kitty that "looks and acts just like a REAL kitty." i'd look with no real intentions on purchasing one. i've learned that usually the toys that are shoved down your throat on television don't amount to much and are almost always a let down. learned that with the firstborn.
but emma gracers, she adores her animals and she wants a real one really, really bad. unfortunately her adoration for animals doesn't get to play out very often in real life because of her allergies. when exposed to them, she gets red puffy eyes, starts to cough & wheeze....and well, it just isn't pretty. she gets to visit and play only on holidays when visiting family, but even then the visits are usually cut short because of her reaction even after taking precautions & medicating her.
so each time she saw this kitty commercial, the whole world would stop around her and she'd watch and ask to own this kitty....."because mom, i can have this kitty because it's like real, but not really real so it won't make me wheeze. right, mom?"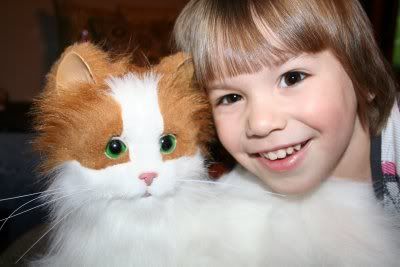 i finally decided that it would be a perfect Christmas gift for her so one day i was looking it up online to see some consumer reviews on it and almost choked on my water when i saw the price!?!! wowza.
but she was lucky enough to get a birthday card with money in it from Grammy & Papa at the Beach...and i was lucky enough to find a good coupon. i already had her birthday presents purchased, but when we asked what she'd like to buy with her money, of course she said "a REAL, but not really real kitty!"
so, the birthday presents remain tucked away (now for Christmas) and we paid half & she paid half.
her name is Lulu Fluffers.....and she is completely smitten.