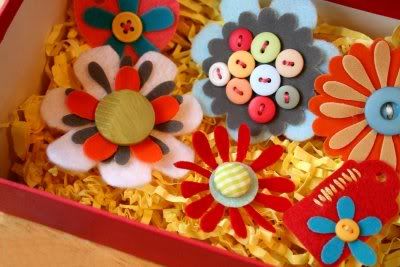 i'm SUPER excited to announce that a class i taught around this time last year is BACK for round 2! and the
best news ever!???
----everyone who took the class last year is automatically
grandfathered in for FREE!
Embellishments:

Beautifully Handmade
taught by ME
runs from Feb 16 - March 19
10 lessons over 5 weeks!
over at
Get It Scrapped!
Registration is $25 and you can do so by
clicking here.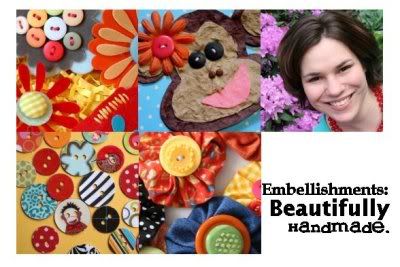 "In 10 illustrated lessons, Tania Willis shares her cache of ideas, inspiration,and how-tos for hand-making custom embellishments. These embellishments are not only fun, unique, and beautiful, their cost is a fraction of what you'd pay for ready-mades. Learn how to make your own flowers using fabrics, felt, dollar store finds, patterned paper scraps, buttons and brads. Tania will take you through the process of paper piecing, making the ever-popular epoxy buttons, journaling spots and much much more!"
Included:
10 lessons. In each lesson you'll see examples and learn techniques for making home-made embellishments.
Work with textiles, dollar-store finds, chipboard, buttons, brads, inks, papers, diamond glaze, watercolors, and more.
Use techniques that include: masking, hand-sewing, texturing, painting, glazing, stamping, and imagining your own original embellishments.
Access to a private forum and gallery for chatting with and sharing your work with Tania and other participants.

Frequently Asked Questions
Q: How do i register?

You'll need to go to debbiehodge.com and register there. The direct link to the registration page is
HERE.
Q: What does the $30 cost include?
The class includes 10 lessons, available in PDF form AND access to a private class message board and gallery where you can talk and share with myself and the other students enrolled. There will be a lesson posted twice a week for 5 weeks. You will need to have Adobe Acrobat Reader installed on your computer. If you do not already have it installed on your computer, it's available for a free download.
Q: How does an online class work, i'm confused?

As mentioned, the class is available in PDF form. The PDFs include VERY detailed instructions along with supporting photographs to walk you through step-by-step of every process. ALSO, i am available on the private message board to supply you with even more additional samples showing you how to put the embellishments we are making to use in your projects (layouts/cards/home decor/etc.). The classes are posted twice a week (Tuesday & Thursday). You will come to the Blackboard area of our private board to download the PDF directly to your computer. You can view it directly on your computer, OR print it and take it with you, AND you can save it to your computer to refer to over and over and over again. They are posted by 9AM, EST on class days.
Q: Do I have to be there on the exact day the class is posted to be able to get that day's lesson?

NO. the beauty of an online class is that you can make it fit YOUR schedule. the lessons are posted and will remain posted on the private forum for AT LEAST 6 months.
Q: What if i get confused and have questions once i'm in the class?

We have a private message board for you to talk and communicate with me through the entire 5 weeks....and beyond. You will also be able to share and communicate with the other students in the class. I also welcome questions through email.
Q: What if i have dial-up service? Can i still take the class?
Absolutely. If the files are too large to load online or loading is too slow, we will accomodate and email you the files instead. Then you can still come over to the message board for all the chatter.
Q: How much sewing is involved? Do I have to know how to sew?
Absolutely, not.
There are no pre-requisites to this class.
We will not be using a sewing machine, but we will be using some minor hand-stitching. In the tutorial, i use the assumption that you have never sewn anything by hand before and am very descriptive in mentioning, dominant hand/non-dominant hand. Left-handers won't struggle at all. I'm left-handed myself.
Q: What supplies will i need?

A complete supply list will be provided upon registration, but they are all basic scrapbooking supplies and basic crafting supplies (felt/fabric/buttons/floss). Some supplies are even available at your local dollar store. Many of my past students have said they didn't have to go out and buy a single thing. It's all common items.
Q: What other perks are there to your online class?
In addition to the 10 lessons, I have bonus materials to post throughout the class. AND GIVEAWAYS. ya'll know how much i love giveaways! :o)
Q: What exactly will we be making?
we'll cover many topics for handmade embellishments....crafting with fabric, felt flowers & accents, epoxy buttons, paper piecing (the MONKEY) and MUCH more.
if you still have questions that weren't answered, please email me and i'll get back to you right away! the email link is --------------> over there under my photo.