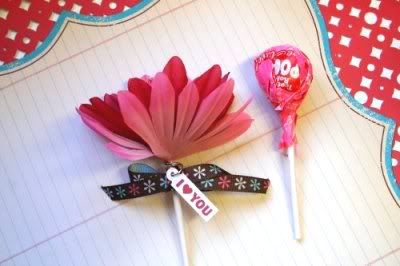 with Valentine's day around the corner i thought i'd share a fun way to turn a tootsie pop into a valentine.
Supplies:
2 large silk flowers
1 small journaling tag
2 jump rings
10" of 1/4" wide ribbon
glue dots
sharp pointed scissors
tootsie pop
1. Using the
sharp point of your scissors, enlarge the pre-placed hole
in the center of the flowers. Hole needs to be just large enough for your sucker stick to slide through.
(NOTE: I used Heidi Swapp flowers for this tutorial, but you could easily use flowers from the Dollar Store by removing the centers from them leaving you with just a flat silk flower.)
2. Place 2-3 glue dots around the
twisted part
of the wrapper.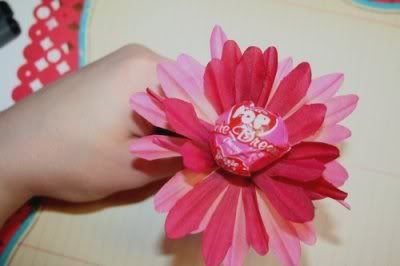 3. Put sucker stick through the
center of the RED flower and press
, allowing it to cling with the glue dots.
Add 3-4 additional glue dots
on the bottom of the flower. Then, put sucker stick through the
center of the pink flower
. Shape flower as desired, adding additional glue dots if necessary.
4. Hook
2 jumprings together
, then
attach
to your tag.
5. Place the sucker stick through the jumpring that is
NOT
attached to the tag.
6.
Tie on your ribbon.
This keeps the jumpring from sliding off.
here's another view: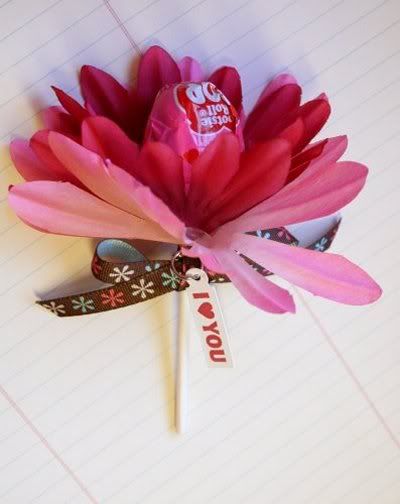 ****************
you may recognize this from two years ago when i put together this tutorial for
Scrapsupply.
today, i'm bringing it out of archive and sharing it once again, in an attempt to get all of my tutorials in one place here on the blog instead of having to direct people to other websites to find them.