before i forget....extending entries for the giveaway of my free class pass until 11:59 EST tonight! ENTER to win
HERE.
winner announced in the morning. :)

just a few weeks ago, i was going about minding my own business, and i get a super sweet email asking me to consider to be on a new kit club design team. and the timing was perfect!
i'm thrilled to have been asked to join
The Story Matters
design team to represent their monthly kit club that launches TODAY!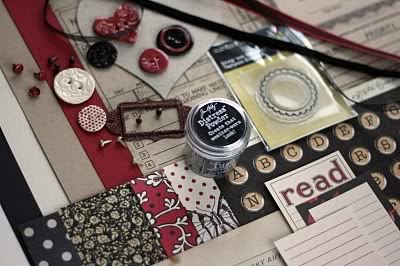 many of you might be familiar with The Story Matters, as it was once a challenge blog, encouraging readers to tell their story through creative journaling. but now they are taking their dream a step further with the help & support of Scrapaganza--a brick & mortar store in Iowa.
this kit club is unlike other kit clubs in that you don't have to subscribe for 3, 6 or 9 months. subscription is on a month-to-month basis! you can cancel at anytime and the kits are only $24.99!
how cool is that!?
but, subscribing gets you first dibs on a kit. all subscribers WILL automatically get a kit every month, then a small amount of kits are reserved for new subscribers, available on a first come, first served basis!
here's the awesome part----a preview of each month's kit will normally be shown on the 15th of the month and subscribers have until the 20th to cancel if they aren't interested in that month's offering.
why subscribe?
you'll be guaranteed a kit, the mixing and matching of coordinating products is already done for you, and each month you'll get tons of inspiration from me & the other design team gals---with sketches, tutorials, and more! you can view additional details and get questions answered over on the blog -
The Story Matters.
today, at 10AM CST, they are doing a soft launch with the kit shown above, and will continue to release a new kit each month with the Grand Opening being in May!
if you have a moment this weekend, take some time to say hello to my new teammates. several of them have giveaways going on right now too!

Megan Klauer
,
Angela Ploegman
,
Penny Smith
,
Candi Ladwig
,
Bree Tetz
,
Shelley Haganman
,
Andrea Weibe
,
Lain Ehmann
,
Michelle St.Clair
,
Amy Coose
, &
Kim Garner
.