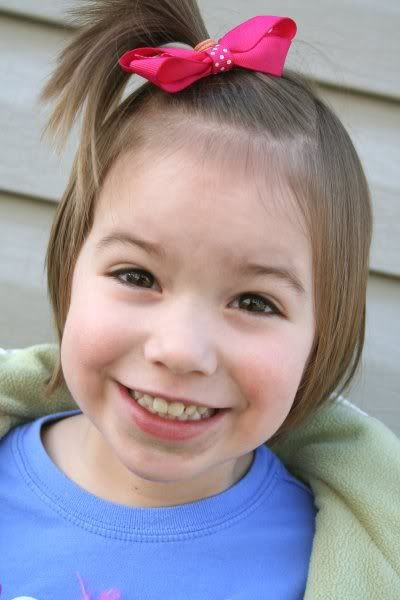 what am I shoutin'? M E R C Y!
mercy. mercy. mercy. mercy. mercy. with it, i'm waving a white flag of surrender.
randomness....
our 1:30 appointment today at the ENT, will bring us to 4 dr visits in 6 days for Spidergirl
that's a whole lot of leaving work early and driving back and forth.

3 of those 4 visits were for her ears
she's been miserable with ear pain for a week now
but even when she's miserable, she still manages to be silly and smile.

i LOVE that about her.



she's current taking her 32nd antiobiotic in the 5 years she's been alive
she actually gets excited to take antiobiotics because she knows that means relief
thankfully she's a good medicine taker. mostly.
she hates.hates.hates. antiobiotic ear drops though
not so good at letting me do those without a fit

i'm guessing they'll schedule us for another surgery today for a second set of tubes
it's harder and harder lately to understand many words in her vocabulary
evidence that her hearing loss has return with the left tube being blocked, right tube totally out.

yesterday, though, was allergy testing
she has allergic reactive asthma
2 1/2 years ago allergy testing was a breeze
when they're 5.........not so much. it was torture.
56 pricks in her back. welted up in a matter of seconds. and VERY itchy.
she cried and squirmed and cried and squirmed

we were hoping that she'd have grown out of the allergies a bit by now
but instead.......she's now allergic to 16 things, instead of just 4
extreme to cats, dogs & horses....moderate to 6 grasses, trees, oak, mold, dust mites, cockroaches (ew!), hamsters. and more i can't even remember at the moment.
with all the doctor visits, and different specialists, she now asks, "is this the doctor with the treasure chest?" "is this the doctor with the fish on the wall" "is this the doctor at the hospital?"
now it'll be "is this the doctor that gives me a shot"
week immunotherapy shots are now on our schedule for her.
*sigh*
M E R C Y!!!!!!!!!!!!!!!

i need a mental break.
my checkbook needs a break too. ha.

ashlyn was doing really well on her chemo medicine until this week. she's now on day 3 of a really upset tummy and not eating well at all, and has a couple ulcers that sting like crazy in her mouth.
in otherwords, she's a total crankbutt. can't blame her though.
clearly, i need to find some time to decompress from all this stress. but now. it's time to leave for that ENT appointment.