nena asked
many, many posts back...what was in my hair in this picture: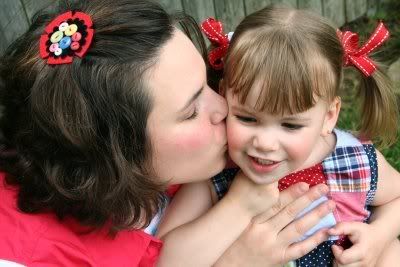 here's the deal. it is just felt and fabric cut out, embellished with buttons and messy stitching on the back. pretty on the front, messy on the back. you can use buttons, silk flowers, pompoms, felt......anything really.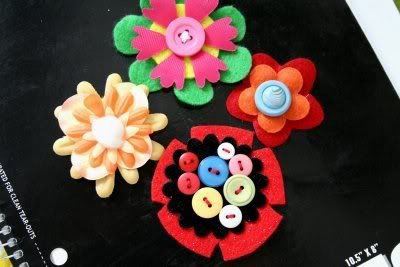 then, i just slip a bobby pin through the messy stitching on the back and pin it in my hair (with a million other bobby pins too!). you could also just get some alligator clips from the beauty supply store, ya know, those silver metal clips, and stitch the flower to that. i'll share some pictures soon of those. they work perfect for little girls.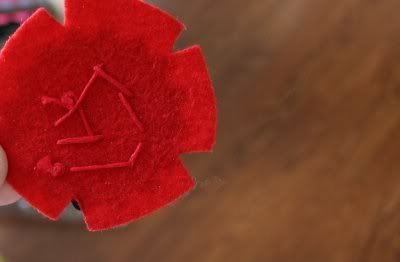 ashlyn asked
mommy, what's your favorite cookie?
well, it used to be
The Ultimate Chocolate Chip Cookie
, but since i'm now caffeine/chocolate free (since April 15......wooohoooo!), my next fav are SNICKERDOODLES.
*recipe at the end of the post*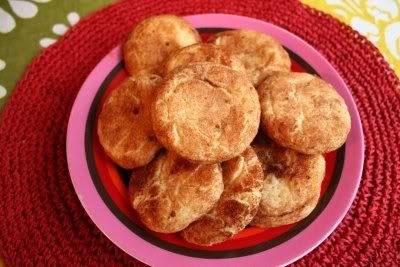 why aren't you at work?
well, let's just say that i have a forever sick, never really ever gets better from one sickness to another little girl who can't go to daycare because she has yet another fever. i feel so bad for her. she practically lives on antibiotics.
how's emma?
well, after going to the doctor yesterday----for the SECOND time this week----and seeing yet another doctor since her's in on vacation, we now have a diagnosis of an ear infection AND a sinus infection. FINALLY. she's had this going on for 3 1/2 weeks now. it all started with 105.6 fever for 3 days in a row, raw, red, blistered throat. then it moved to headaches, refusal to eat, snotty nose and a yucky cough. now, the throat pain is back, along with the fever and earache. but, now she's on liquid gold (aka omnicef) and is already much improved. and might i mention, this is the 4th ear infection and 2nd sinus infection this year. it's time to find and ENT, ya think?
what are you doing this weekend?
ummmmmm........that would be cleaning out the garage. it's bad. i mean really bad. like everything that didn't make it in the house when we moved *ahem* 3.years.ago. *ahem* is in there, among all the stuff that we've collected, but don't yet have a spot for. ever watch the show "Clean Sweep"? yeah. that's the plan. except there will be no sale. just a donate and hopefully a very small "keep" pile. wishful thinking.
what are you reading?
right now, i'm currently engrossed in Pioneer Woman's love story
"Black Heels to Tractor Wheels".
it's dreamy.
happy friday!
ps. if there's anything else i forgot to answer, please leave a comment.