i'm so swamped with freelance work right now that i can't even see straight, but i decided that a little break would help me be more productive. isn't that how it works? i hope so anyway.
imagine, and entire park, covered with these........in every size & color you could imagine. GORGEOUS.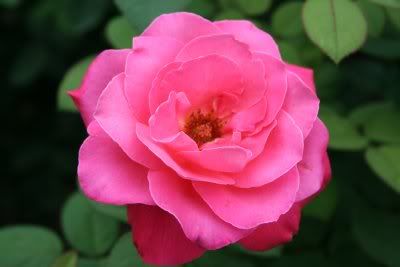 you can find them here: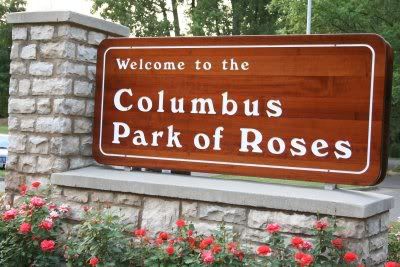 last thursday night was the wedding rehearsal at The Park of Roses. not sure what i'm talking about?
okay, then. let's backtrack.
meet, greg & kristin. aren't they adorable!?
greg proposed to kristin last year, she said yes, and last thursday was practice day for the wedding! you might remember that i got to take their engagement pictures last month....maybe? i only shared a few.......out of the 600+ that i took because, well, i was busy then too---always busy.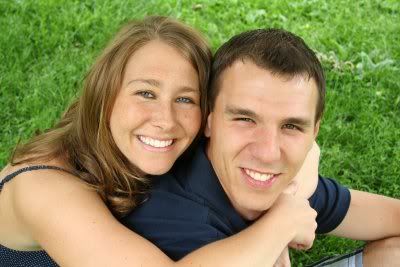 for those of you who don't know, greg is my step-brother. he's the youngest little brother. he belongs to connie. (she's got an infectious personality, can't you tell!?)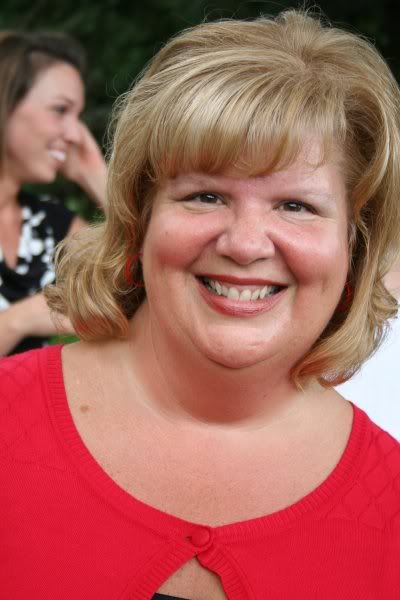 who's connie, you ask? connie is my step-mom. she married my dad (ummm, 12? years ago).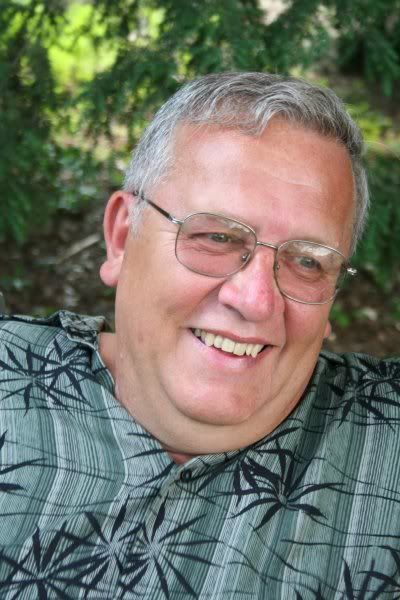 he's a hard one to get to look straight at the camera. every picture i have of him, he's not looking at the camera. darnit.
anywho. they go together like peanut butter and jelly. wait.....he's looking at the camera! awesome.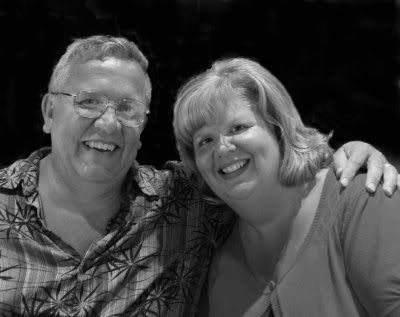 and while we're doing introductions........this is kristy, my step-sister. she belongs to connie too. she's greg's big sister--my little sister.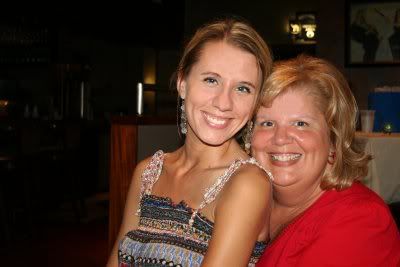 and well, then, while we're at it, there is Zach, kristy's boooooyfriend. they're so adorable together it makes you want to wretch.
okay, so you've met, my step-brother (Greg), my step-sister (Kristy), their mom (Connie), my dad. are you still following me?
okay, so then, here's my younger brother Mike.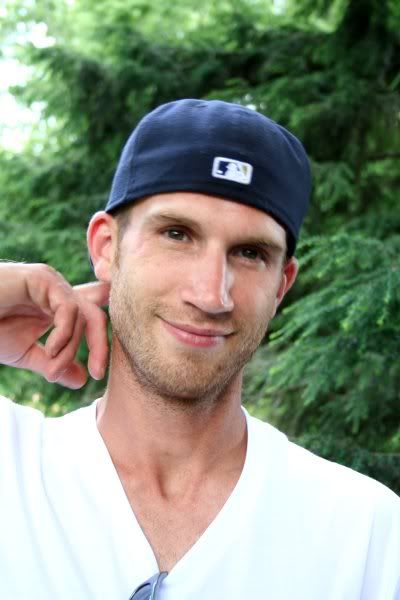 in every conversation you have with this kid, you're sure to hear him say "i'm damn near 30, ya know." and everyone busts up laughing. he's quite concerned about getting old and turning 30. i keep telling him he still needs to get to 29 first.
he became a first-time daddy the same weekend emma (my second-born) was born. so my nephew, Justin, is only 2 days older than emma. in Grandma's words, "he's devilish." can't you tell? little stinker.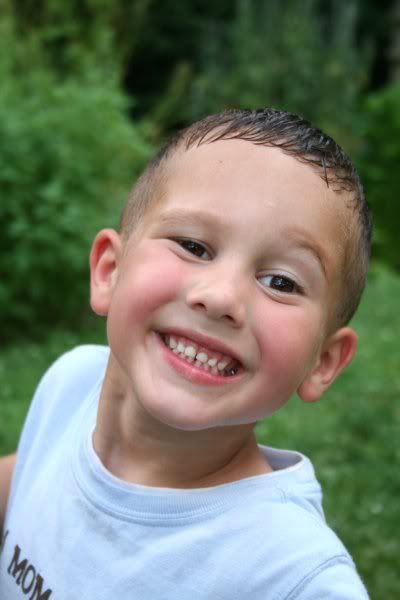 speaking of grandma. this is my dad's mom. she's another one that isn't too fond of having the camera turned on her. every picture i have of her, she's talking. saying "oh, stop it. you're gonna break your camera."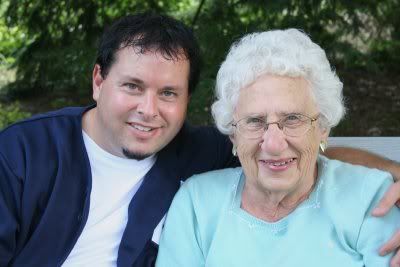 that's my husband doug in the picture with her.....in case you didn't know.
anywho. those kids. get justin and emma together and they like to think they are batman & spidergirl. that, and they kept occupied chasing the chipmunks that they kept calling skunks. the picture is kinda blurry, but hey, i can hardly take a picture of one kid that's in focus, let alone two. they surely remind me to count my blessing that i never had twins. phew. they wear ya out.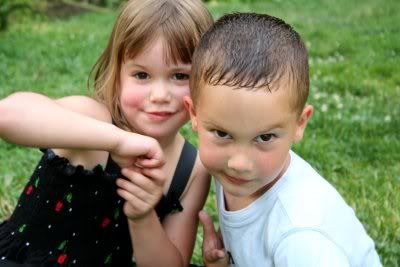 so, anywho. The Park of Rose is this gorgeous park filled with tons of rose bushes, and they have a few gardenscapes with open grass area perfect for outdoor weddings. that's where kristin & greg chose to get married. if you've been following with me for some time, you might remember when i took the girls to the park to get some pictures (
here
and
here
).
ashlyn was thrilled to see her kristin. she loves that girl something fierce.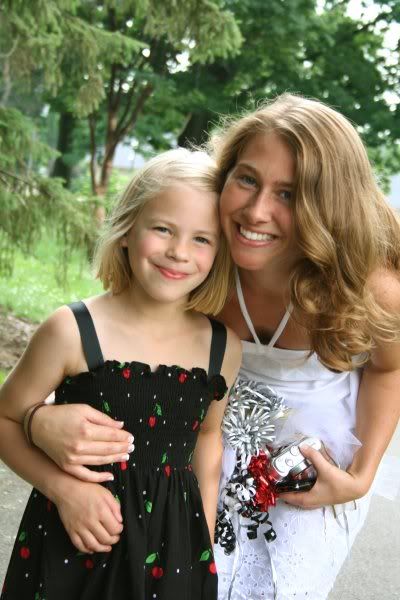 once everyone was there, we wasted no time rehearsing....in reverse order. never seen a rehearsal rehearsed in reverse before. wow, that's a tongue twister. rehearsal rehearsed in reverse.....
did i mention that it was HOT? like SUPER hot. and humid as all get out. ick. ashlyn didn't last. she was sure she was going to melt in the heat, so she collapsed in the grass and took a break.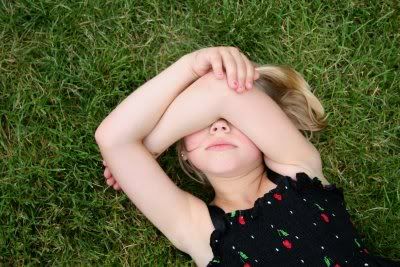 i definitely didn't remind her that the next day she'd have on a heavy flowergirl dress with layer upon layer of tulle underneath making her feel like she was in an oven. that would have sent her over the edge into full-blown meltdown mode. trust me, i know these things.
we're constantly watching our words and biting our tongue to avoid instigating any and all meltdowns. somehow we still deal with many a meltdown---not for lack of trying to avoid them though.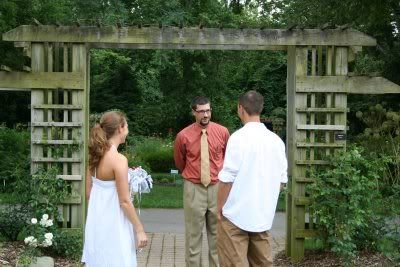 kristin had the same reaction i did at my wedding rehearsal (ahem, nearly 14 years ago), when during rehearsal the pastor said, "okay, now, repeat after me, I, Greg, take you Kristin, to be my wife....." they didn't finish the whole thing, it was just practice. but, kristin panicked a little with a nervous giggle said, "right, now?" it made me chuckle because i did the same thing. her voice had the sound in it, as if to day, isn't it like taboo to exchange vows a day before the big day? i feel ya, kristin. i felt the same way.
rehearsal lasted a good 30 minutes and then we were off to our next destination.
(to be continued...)