mom would have turned 53. *sigh*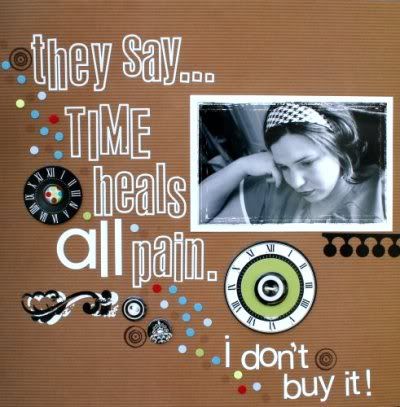 i don't even know how to articulate how i feel. today is one of those days that i'm
expected
to be sad...along with mother's day, the anniversary of her death, and other holidays.
but oddly enough, it's not these special days that i feel grief the most.
so, today, i'm just fine.
for now anyway
. :)
it's often the random day, when i see a mother & daughter together. or, when i open the cupboard and see
cream of mushroom soup
. or, when there's a NASCAR race on. i could give example after example. those are the things that catch me off-guard.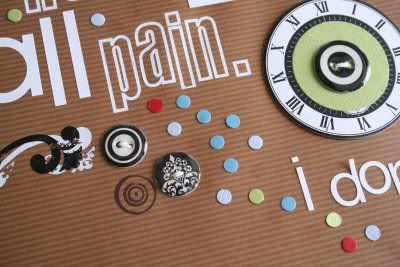 i clearly remember sitting down and making this layout. it was just three months after
she passed away
. i was in an ugly, ugly place and feeling like i would never enjoy the birds singing or the sun shining again.
but, today, i still feel the same as i did on
this day last year
, but somehow, so very different.
i'm still in the camp that time doesn't really heal the pain. but it does change it. it makes it more bearable. it makes the memories sweeter. it makes the heartache dull just a bit with each passing day.
so now, instead of my scrapbooking layouts and memories of her feeling heavy and downtrodden, they are a more positive and celebratory. most of them are informative & not so much a display of pictures. she hated to be in front of the camera.
so, while i don't have many pictures of my mom, i haven't let that stop me from recording details about who she was and what she did. this is just one example.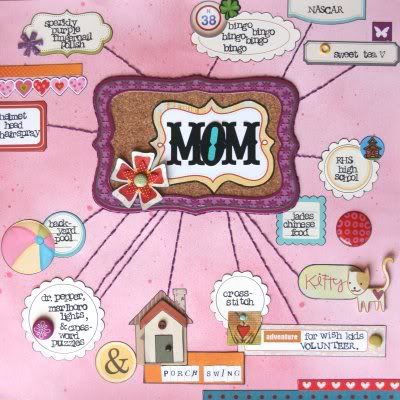 instead of repeating a photo already used on another layout, i chose to make a large focal point in place of a photo with the word MOM embellished.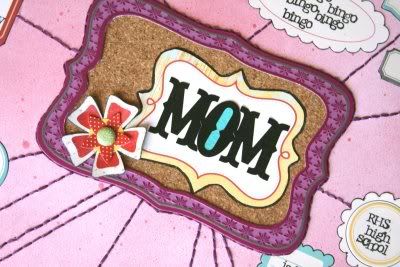 i created this layout after being challenged by Amanda Probst & her super fabulous blog called
Good Grief.
the challenge was to create a layout about your loved one using word association.
i immediately thought of those brainstorming webs we were taught to create in elementary school when learning to write stories.
so i grabbed a scratch piece of paper & my oldest daughter,
the one with the excellent recollective memory
, and we each jotted down anything and everything we associate with mom (or Big Grammy to her). then together we decided which ones summed up our memories best to include on this layout.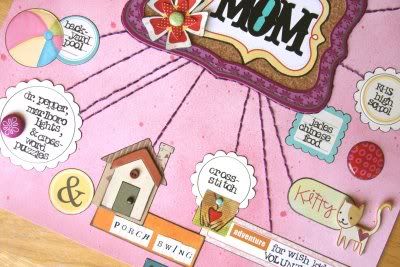 the coolest thing about this whole project is that as we were finding words that we associate with her, we discovered that behind each and every one of these words is a very important story that needs told about who she was.
i forgot how helpful brainstorming webs could be!
if you'd like read a little more about my mom and my journey through grieving her loss--including more layout, you can read all the posts by
clicking here.
PS.....i will be bringing back my In Loving Memory class in late April or early May. stay tuned.