school's back in session! and ashlyn is on cloud nine.

she started her first day of 3rd grade yesterday, with the teacher she dreamed of having all summer. she was nothing but a bundle of giggles when she found out her teacher assignment last Thursday night.
she woke up yesterday in an exceptionally good mood and ready to tackle the day. a far cry from all the days and weeks and years that she woke up crabby and crying, unsure about going to school. i thought i'd never see this day. (i'm treading softly though....it was only one day. ha!)
it's hard to believe that just 2 years ago on her first day of kindergarten--which quickly accelarated into her first grade year--she looked like this on the first day of school.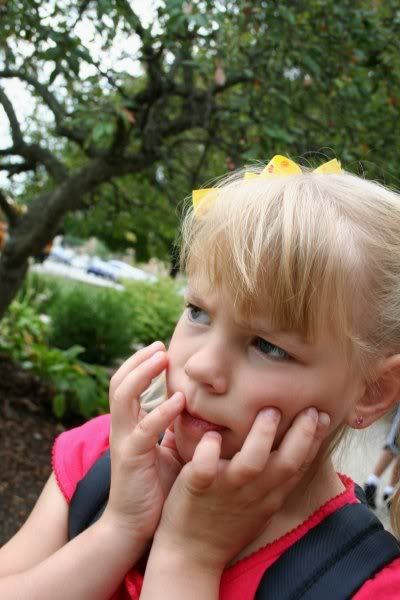 this year, the only sensory issue that was obvious was her instant watery eyes when we came outside to take a few pictures just before leaving to drop her off at school. it was a cloudy, overcast day, but she just couldn't hardly keep her eyes open. the first 20 pictures i took her eyes were closed in every single one.
light sensitivity has been an ongoing issue for her. so, i decided to pack 'em up and head to the school early and try again. along the way, i realized i had her sunglasses in my purse. BONUS! so, that's the reason for the sunglasses in the rest of the pictures. HA.
i couldn't decide on which pictures best summed up her morning, so you get a handful. i still have more to go through, but have to spend small increments of time on the computer or else i get too dizzy. still very blurry and intermittently seeing double. blah.
anywho. she was dancing a little jig. heee. this picture makes me ridiculously happy.
and i can never resist her profile. that cute button nose gets me every time.

if i could bottle up one of her giggling fits and sell it, i'm sure i'd make a fortune. she giggles when she's happy and giggles even more when she's in an uncomfortable or awkward situation. usually everyone starts giggling right along with her.
and yeah.......she pretty much has my personality. one that only shows it's true colors when 100% comfortable. a little bit outrageous, slightly quirky, spontaneous and a lot bit introverted--can't tell that by these pictures though. heh.

gosh, i love this kid.