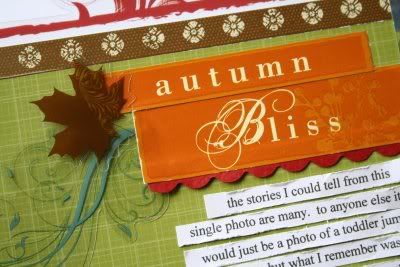 1. One thing I'd grab if my house were on fire :

external hard drive


2. One thing I wish I could throw away :

bills (& the television)


3. One thing I'll never ever throw away :

homemade quilts & blankets


4. Something I lost and still miss :

my mom


5. Something I've kept since childhood :

love for making art


6. A food item I never run out of :

tortilla chips


7. A household brand I'm very loyal to :

mr clean magic erasers


8. Something I sleep with every night :

bare feet


9. One thing that's on my wishlist :

a gallery wrapped canvas of a favorite photo


10. Something I take with me wherever I go :

c.o. bigelow spearmint lipgloss


11. Something that makes me smile when I see it :

a clean house


12. Something my children fight over :

lately, it seems everything....but, there's always a fight over which cartoon they will watch


13. Something I hate to clean :

the oven


14. Something I show off when people visit :

pictures


15. Something I hide when people visit :

nothing....


16. Something I collect :

smiles


17. Something I avoid at all costs :

the smoking section


18. Something that reminds me of my mother :

looking in the mirror

or looking at emma


19. The best gift I've ever received :

unconditional love
how's that for a boring post?
reality is, things are pretty boring around home lately. lots of coughing.whining.coughing. and more coughing.whining.coughing. from the little set and the big set. we've all got the crud.
i've been busy scrapbooking and making christmas cards, catching up on laundry, cleaning my studio only to mess it back up again. i keep saying i want to post about real life and not so much scrapbooking, BUT, scrapbooking IS my life, LOL. it's what i do, so it's only natural that i'll have lots to say about it.
anywho.
what else? ohhhhhhhhhh....we moved emma into ashlyn's room. all in an attempt to get them to go to bed and stay in bed every night. so far, it's worked brilliantly. we had to remove ashlyn's artdesk from the room to make room for emma's bed, but we're planning to turn emma's room into the playroom/homework/study area and turn their (massive) playroom into my studio! yahoooooooie. that would at least triple the amount of space i'm in now. here's
their playroom
now. and here is my
current studio
. and more pictures
here.
a whole lot crammed in that little bitty space. so i'm excited to take it over, but definitely not going to worry about painting right now. someday.
it's all a process. a long process. one that i wish would just be done already. it seems that nothing is in it's place right now because of the transition. in the process of all this moving we're also trying to do the fall clothing switcheroo and also purge out outgrown toys/books/games.
it all kinda came to a halt when we started coughing.whining.coughing. ick.
but...
....the girls got their flu shots.
...we started steriods on ashlyn's leg.
...researching morphea & chemo effects.
...weeding through emails (thank you everyone for your experiences....i'm trying to respond to them all)
...emma is over her walking pneumonia.
...ashlyn is still hacking.
...we went from needing air to needing heat in just days.
...it's FALL, my most favorite season of all.
and tonight, i'm going to do nothing..........and watch TV *gasp*, with my cup of hot tea, curled under a nice big quilt, with the windows wide open. ahhhhhhhh. bliss.
the girl who never watches TV, and just said she wanted to throw it away, is going to sit and watch TV. unbelievable. doug's trying to get me hooked on a show that we can watch together.
PS: i'll share the layout that's peeking up there tomorrow.